Activate The Senses
most of them anyway. plus barn beers, line dancing and more.
I sometimes feel like a fraud when I'm in an art museum. I attempt my best I'm-a-serious-quiet-contemplative-art-lover disguise, but as I've revealed in past newsletters, art feels entirely intimidating to me and I'm a proponent of pursuing activities that you actually enjoy as opposed to ones you think you should enjoy. And traditional museums, when I really pay attention to my happiness/enjoyment meter, can be pretty hit or miss. I feel a pressure to "get it" within the walls of a quiet museum - to decipher the underlying meaning, discuss the art correctly, draw connections where I see none.
With that said, I appreciate art and the artists, of course, but I find when I most enjoy art, when I feel a part of the experience or story is when I can immerse myself physically in a multi-sensory, site-specific or 360-degree way. Say what?
My past favorite experiences viewing art has almost always been outdoors (or strongly connected to the outdoors) where I'm able to physically circle the art, go through the art, perhaps lay underneath it, move my body, marvel at the size. A place where my kid is free to roam unapologetically and where I'm able to dialogue freely and nonsensically without feeling like a nuisance.
Last summer, as part of L.L.Bean's Summer Across Maine, the Portland Museum of Art created reproductions of over two-dozen works of art from the permanent collection and hung them on display in four state parks and at the Coastal Maine Botanical Gardens. Beyond this gallant effort to make art more accessible to everyone, it drew an unavoidable, in-your-face connection between art and the natural world - and our responsibilities as human beings therein such. Tilting your head to the left or the right of the frame, comparing the lush trees along the trail to the green strokes on the canvas, the rising tide of the ocean to the ripples of blue in the water scenes, served as a gentle reminder to make sure these pictures remain true and present reflections of our natural world. A connection to this type of art is easy and pure for me, enjoyable, and while I know art is subjective and there is definitively no right answer, I "get" it. Whatever that means.
Maybe it's the storyteller in me, the need to truly feel and personify art. Or, perhaps I just can't sit still and I talk too much. Either way, finding opportunities where I can earnestly enjoy art has been revelatory for me.
So, here are some of my favorite art installations, my favorite larger than life pieces, currently on view throughout Maine. These pieces beckon - and encourage you - to get all up in their business.
Beneath the Forest, Beneath the Sea at Edward Payson Park
Portland, Maine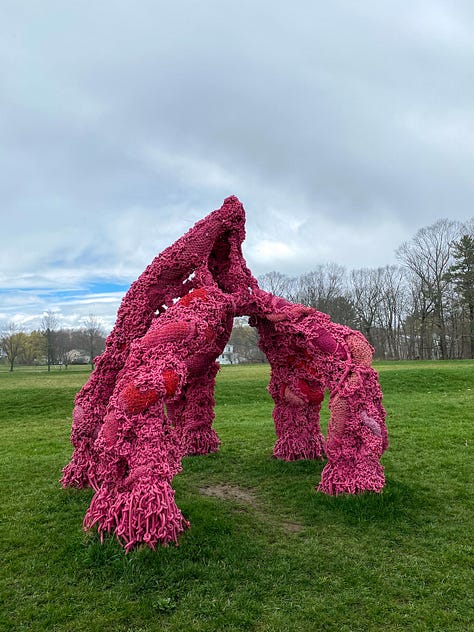 Pamela Moulton's three spirited sculptures were created from over 10-tons of abandoned fishing gear - trawling nets, ropes, buoys, lobster traps, and other fishing debris – salvaged from the Gulf of Maine. While standing under these stirring works created from ghost gear pulled from the bottom of the ocean - it's impossible not to feel the weight, to contemplate the environmental issues that this work so brilliantly (and heart wrenchingly) remind us of.
DEEP FAKE at Speedwell Contemporary
Portland, Maine
A solo exhibition by Greta Bank, DEEP FAKE is an immersive installation inspired by what was a Super Volcano over 400 million years ago. Pulled from the exhibition statement, the project "spirals around the experience of perception, by contemplating human scale and the evanescence of human exceptionalism. DEEP FAKE is a shroud of distraction and the denial of our planet Earth." My pictures don't do it justice - so, grab one of their mats, lay down and take in this installation now through May 13th.
Landscape, Sculpture Park & Gardens at Ogunquit Museum of American Art
Ogunquit, Maine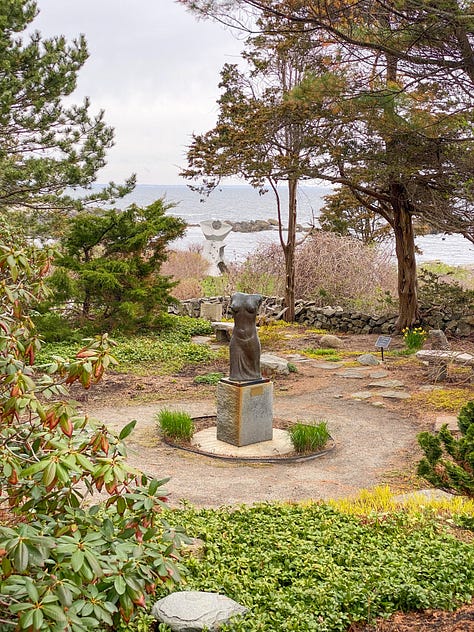 A three-acre sculpture park featuring works by Bernard Langlais, Lyford Cabot, Dorothea Greenbaum, and Antoinette Schultz. You can smell the ocean while you stroll the gardens, all senses truly employed while discovering your new favorite pieces. Inside the museum, there are stunning ocean views from every window. The museum reopened for the season on April 29th!
Guardians of the Seeds at Coastal Maine Botanical Gardens
Boothbay, Maine
If you haven't gone to see the gigantic trolls yet, The Guardians of the Seeds, I have to say, you are indeed missing out. The gardens have re-opened for the year today (May 1st!) and Danish artist Thomas Dambo's mammoth recycled-wood troll sculptures remain hidden throughout the gardens and woods, just waiting to be discovered. I've visited them in the summer and during Gardens Aglow in the winter and each time, without fail, they take my breath away. They also have a secret message to share - a lesson worth nothing upon visiting.
Looking for a Mother's Day present for the Mom/Mom friend in your life?
* For 48 Hours only, you can gift a year subscription for $25! *

pssst: purchase now to take advantage of the discount - but schedule to have it e-delivered on any day of your choosing!
This post is for paid subscribers