April Showers (really) Brought The Flowers
including pick-your-own tulips. plus goat yoga, carnivorous plants & more.
Sending the newsletter out a couple days early in case you were in need of a Mother's Day adventure! Or just a sunny weekend activity :)
This saying really took on a whole new meaning this year in Maine. There were days, followed by more days, only to have more days of relentless rain. April was like a sullen teenager, morose and irritable. The clouds would occasionally dissipate, the sun then briefly sociable, only to inevitably be swiftly swallowed again by gray. April is always unpredictable, but this year especially, it was not to be trusted.
In apology, perhaps, April has double-downed on it's promise to redeem itself in May. See, it's saying, referencing the blossoming buds, the now healthy soil, I had a plan, it huffs as it slams the door behind them.
Flowers don't fix everything, but they are definitely a great place to start. My garden is showing signs of greatness, much further along than I remember it being in year's past mid-May. And until the peonies pop and the hydrangeas settle into their chosen shade of blue, I'm getting my fix of sweet blooms elsewhere throughout Maine during the merry month of May.
Following daffodils, tulips are one of the next early bloomers to take center stage. And they deserve the spotlight before their root neighbors upstage them - they are timeless, sophisticated, simple beauties. There's just something about a bouquet of tulips that can reluctantly make you appreciate a damp, gloomy April.
A bouquet of tulips only can be made better if you are responsible for hand selecting and picking them yourself - and for a brief 2-3 week period, you can do so at Chipman Farm in Poland, Maine.
Chipman Farm's UPick Tulip garden opened on May 10th - and depending on bloom conditions, will be open Wednesday-Friday (10AM-2PM) and Saturday-Sunday (10AM-4PM) for the next couple weeks. You can't be sure, of course, and it's best to check their Facebook page for updates to make sure they haven't been picked out for the day.
Tulips are $1.50/each (cash/cards accepted) and Chipman Farm provides the scissors and buckets. When you've finished snipping your picks, they'll wrap them up for you so you can safely transport them back home. I went opening day and was the first customer awarded sheers - which feels very on brand for me (I'm notoriously always painstakingly early to everything.) I winded my way through every row, snipping pink tulips for my daughter, red and purple ones for myself.
I had planned to visit on Mother's Day with my family in tow - but then I thought: you know what would actually be the greatest Mother's Day present? Going all by myself.
Bliss, I tell you. Scoot out for some you time, snip a bunch for the Mother figure in your life, or bring your family along for some fun in the sun. In whatever company, be sure to make time to smell the flowers this weekend - because after an April like we had, you deserve it.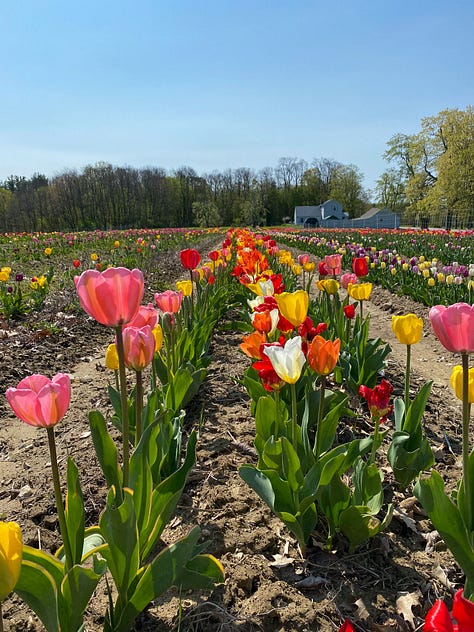 And while you can't pick the flowers at the below spots, here are some additional sweet-smelling-strolls you can also add to your May calendar:
McLaughlin Garden and Homestead Lilac Festival (South Paris, Maine)
May 26th - May 29th
With over 125 different varieties, The McLaughlin Garden is home to one of the largest privately cultivated collections of lilacs in New England. This weekend long celebration features workshops, guided tours, live music & more. You can also pop in to stroll the gardens at your leisure - I promise you have never smelled anything like it! Free to visit.
Braveboat Harbor Farm (York, Maine)
The garden is open four times a year: May 20 & 21, July 22 & 23
A family endeavor passed down through the generations, Cynthia Hosmer is the steward of this majestic coastal garden passed down to her from her mother-in-law, Marion Hosmer. You'll find perennial and veggie gardens, fruit trees, and more at this true labor of love. Reserve a $10 ticket to visit.
The Lilac Garden at Pineland Farms (New Gloucester, Maine)
Open now, but will peak around Memorial Day Weekend - May 26-29
Lilac season is over in the blink of an eye, so make a plan to visit this sweet garden that has over 34 different varieties. Pineland Farms is big, so here's a link to plug into the GPS. Free to visit.
---
We've got a super fun retail therapy promo below for paid subscribers! Today seems like the perfect day to support this independent, ad-free newsletter by upgrading your subscription :)
---
This post is for paid subscribers