Barn Supper on an Island in Maine
a sister date under twinkly lights. plus puffins, public saunas & more.
Turner Farm Barn Supper


North Haven, Maine
This essay is pulled from my forthcoming book being published by

Islandport Press

, expected in early fall 2023. You can get on the pre-order list and learn more

here

.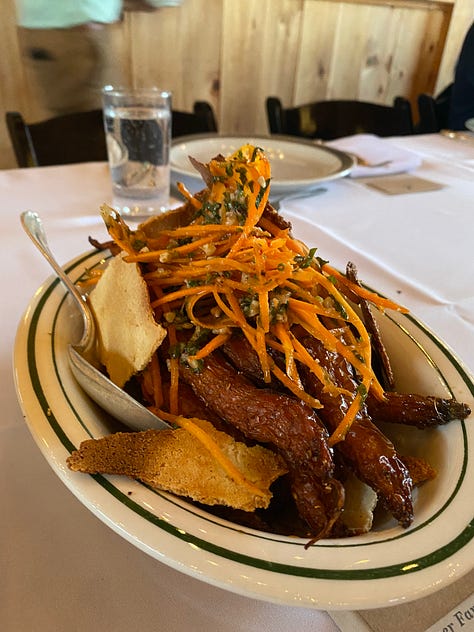 My sister, six years younger than me, is the most self sufficient person that I have ever known. As the older sister, I always expected, and frankly hoped, that she'd need me, but the opposite has always been true: I need her. She has taken on a gigantic role in my daughter's life - being self proclaimed best friends - and I couldn't possibly tally the amount of times that I have, quite literally, cried on her shoulder. I'm messy with my emotions; she's pragmatic and poised. She's a homebody; I'm either lost in the woods or surrounded by a gaggle of raucous friends. Our interests are different, our demeanors polar opposite. 
But the thing that my sister will always trust me with, and perhaps the one thing that she consistently turns to me for, is a good time. I'm the fun provider, the memory maker. I like to shake up her routine, nudge her outside of her comfort zone. Even if at first I'm met with some reservation, she'll never say no to an invite from me. 
And knowing that this would be the first night away from her new baby, my sweet nephew, the invite needed to be a stellar one to convince her to escape for the night.
We boarded the Equinox, a bright blue, 40-foot lobster boat out of Rockland for a roundtrip charter to North Haven Island. The boat quickly filled with animated passengers, draped in blankets, ready for the 50 minute journey across the open sea. I hugged my sister as the boat whipped along, telling anyone that would listen that it was my sister's first night out after becoming a Mom. 
Once docked at the island, we followed the rest of the group through the farm's gardens, passing a chicken coup and rows of vegetables, when the lit barn appeared at the top of the hill. Though quiet, as she mostly is, my sister took out her phone to snap a few pictures, her equivalent of the "OMGs" that were tumbling out of my mouth. We entered the barn, made a plate from the extravagant cheese spread and secured a signature cocktail from the bar. And then, the most magnificent night of food, hospitality and conversation commenced.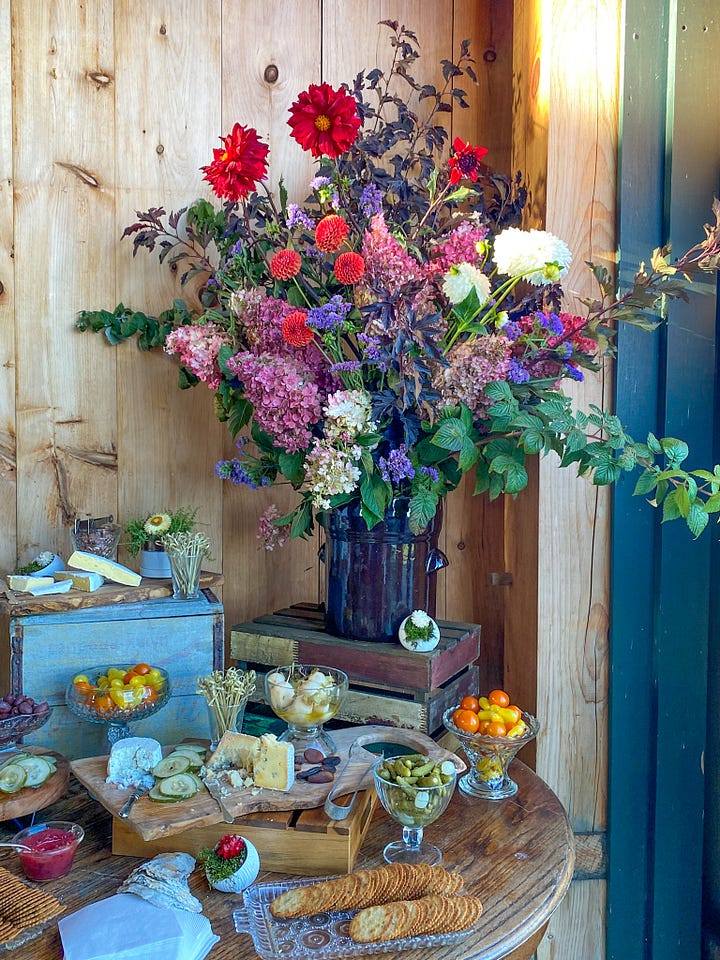 We were seated for a family style supper at long tables under the twinkling barn lights. To my sister's right was a couple celebrating their 40th wedding anniversary and to my left a set of young parents, holding hands under the table, out for a needed date night. Across from us was an older couple who were self proclaimed nomads, living on their boat in the summer months, traveling the world and visiting their grandkids when the weather got chilly. She was a former theater professional, dabbling in both stage management and lighting design, with a resume of impressive gigs that her husband proudly shared despite her hushing. We were surrounded by so much love, both old and new. 
On top of the conversation, the wine was free flowing, my glass often being filled again without me realizing. The plates kept arriving, seamlessly, laced in and out of our chatter. Polenta cakes with charred eggplant, just plucked juicy tomatoes with charred corn and pickled red onions, and grilled flank steak with roasted turnips filled the mismatched china bowls. By the time dessert arrived, an early apple tarte tatin, we had already exchanged numbers and social media information with our fellow diners. 
A little buzzed, my sister and I began the walk back to the boat. Thinking we had found a shortcut trail, we convinced others to follow us. We ended up in the middle of a thick field, doubled over in laughter as we stumbled to use the flashlights on our phone to find our way back to the cut, well lit path. My sister confidently led the charge, proving once again that as long as I provide the fun, she'll find the way back home. 
Barn Suppers at Turner Farm are held on Thursday and Friday evenings beginning June 15 and running through September 22. Round-trip charter boat transportation on the Equinox from Rockland is available. Tickets for the 2023 season are now available - book early as they fill very quickly!



Free Subscribers: below are five additional curated adventures & timely events throughout Maine. If you want some help filling your fun calendar twice a month (plus gain access to the full archive & show your support to a Maine-based writer!) - consider becoming a paid subscriber!
---
This post is for paid subscribers