Farm to Table to (my) Family
on a grass fed dairy farm. plus happy hour in a plant shop, getaway discounts & more.
I have a tendency to overdo it. When traveling, I pack each day so entirely full of adventures that by dinner time my six year old, Harper, is teetering on a nowadays rare, but occasionally slippery, perilous, edge of a meltdown. My husband, Andrew, favors deep, long sighs over tantrums to indicate I might be pushing the limit for our family of three.
On the way to Toddy Pond Farm, I knew I was pushing the limit. We'd been on the road since the morning and by mid-afternoon after a few hours of driving, we'd already tackled a hike, enjoyed a considerably long lunch, completed a museum visit, checked into our stay for the night, explored the property extensively and sufficiently tuckered out our kiddo. It would have made a lot of sense to throw on pajamas and stay in for the night - so when we loaded back into the car to make the 45 minute drive to dinner, there was an unspoken acknowledgement among us that, yes, there's a high likelihood that we'll be rounding the corner into meltdown city.
A few days before our dinner reservation, we received an email from Toddy Pond Farm owners, Greg and Heide. For their winter dinners, they ask you to place your order ahead of time after having ample time to peruse the evening's menu. Tough choices with appetizers including their Rillettes (confit pastured pork with apple rosemary mostarda, fig jam) and Fondue (cozy cheddar with cumin and aleppo pepper.) The star of the show are their wood fired pizzas - some favorite options included the Italian Sausage (house made sausage, broccoli raab, cave aged feta) and Butternut Squash (squash, ricotta, red onion, thyme, fresh mozzarella, balsamic drizzle, fresh arugula.) Most importantly, with my order already secured, I knew I had the Flourless Chocolate Torte (dense, fudgy, topped with whipped cream) on deck for dessert to serve as potential bribery if needed throughout the meal.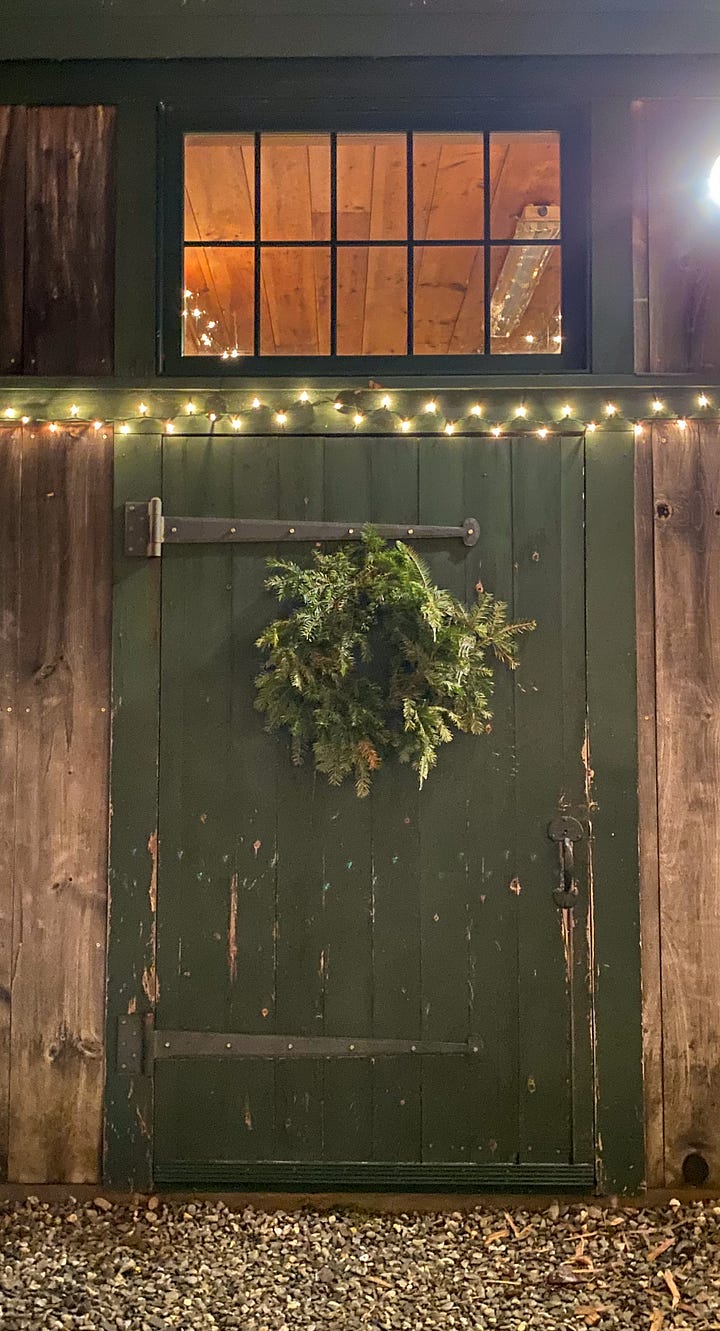 A Neil Young tune could be faintly heard playing inside the barn as we parked the car. Each dinner features local talent to accompany the meal with live music and the musical guest for the night, Whippoorwill Wood, just happened to be playing some of my husband's favorite songs. "Good sign," he said, folding his hand into mine as a barn cat circled Harper's feet, delighting her as we entered the barn lit by countless warm string lights.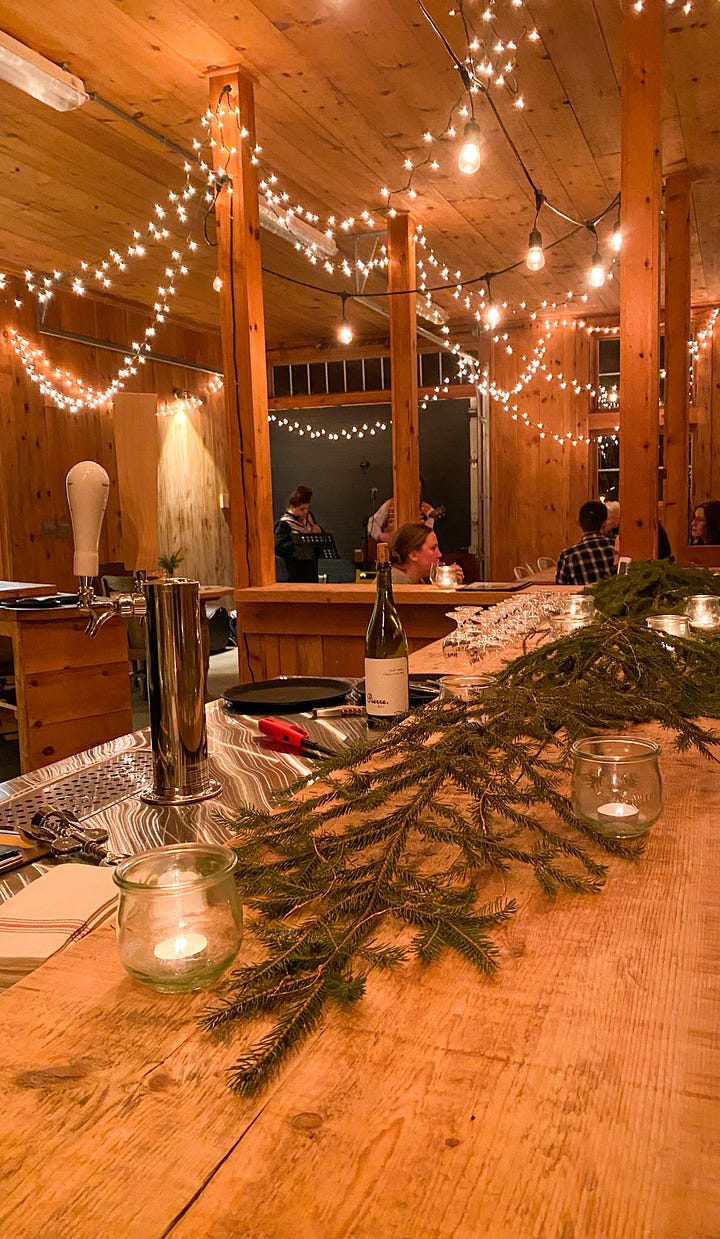 Harper snuggled in next to Andrew after we were seated. The winter dinners are small, under 30 people each night, and we quickly got to know the couple seated next to us. This wasn't their first dinner here - Toddy Pond Farm's summer dinners (with up to 120 guests a night enjoying live music on the property) are a regular date night for them. They come for the pizza, for the music too, but what continually brings them back is an intangible quality, a warmth. An unexpressed, but acute sensation that being anywhere else at that exact moment just wouldn't do, it wouldn't compare. 
It draped over us. A centering, a satisfaction accentuated by music underscoring love soaked dishes, creations from proud farmers sharing their bounty. An exhilaration watching a husband and wife team - along with their son manning the wood-fired oven - carve out the life they want in the space they love, together. There are rare moments when Harper shares details of school, of her friendships, questions she is wrestling with - when she provides more detail than just "it was good" - and we got an hour of sweet, treasured conversation. Snuggled in the warm barn, her Dad's arm draped over her shoulder, songs she hears in our house soulfully sung from the corner of the barn - she was relaxed, happy, calm. The way you always hope to feel when you share a meal. There's magic swirling around in that barn, a sweet symphony of equal parts pride and admiration, powerful enough to transfix and woo a first grader.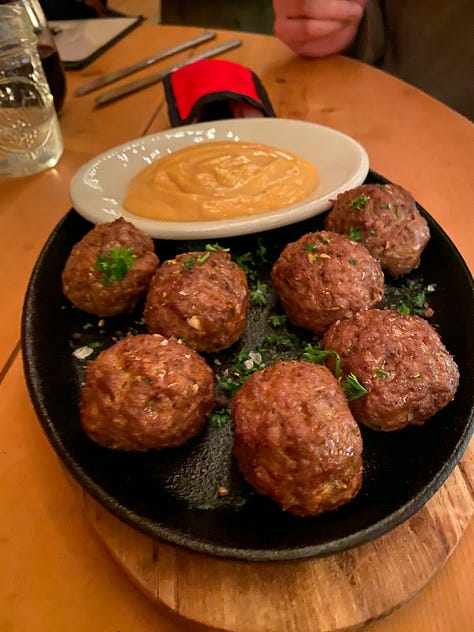 We ordered one more glass of wine as Harper devoured the dessert that I had all but forgotten about. It was only back at the hotel that I found myself empty handed with bribes during the pouting that ensued at teeth brushing time.
Toddy Pond Farm Dinner Reservations can be made here - and I'd suggest joining their mailing list to be notified when additional dates & summer dinners are added. And if looking for a summer camp, check out their Farm Camp for children ages 5-12 - you can book their farm cottage and stay on the property for the week!
Beginning in March, newsletters will have a dedicated section of exclusive discounts, promos + the occasional giveaway to paid subscribers in addition to our curated adventures. To kick it off, here's a discount for all subscribers to enjoy!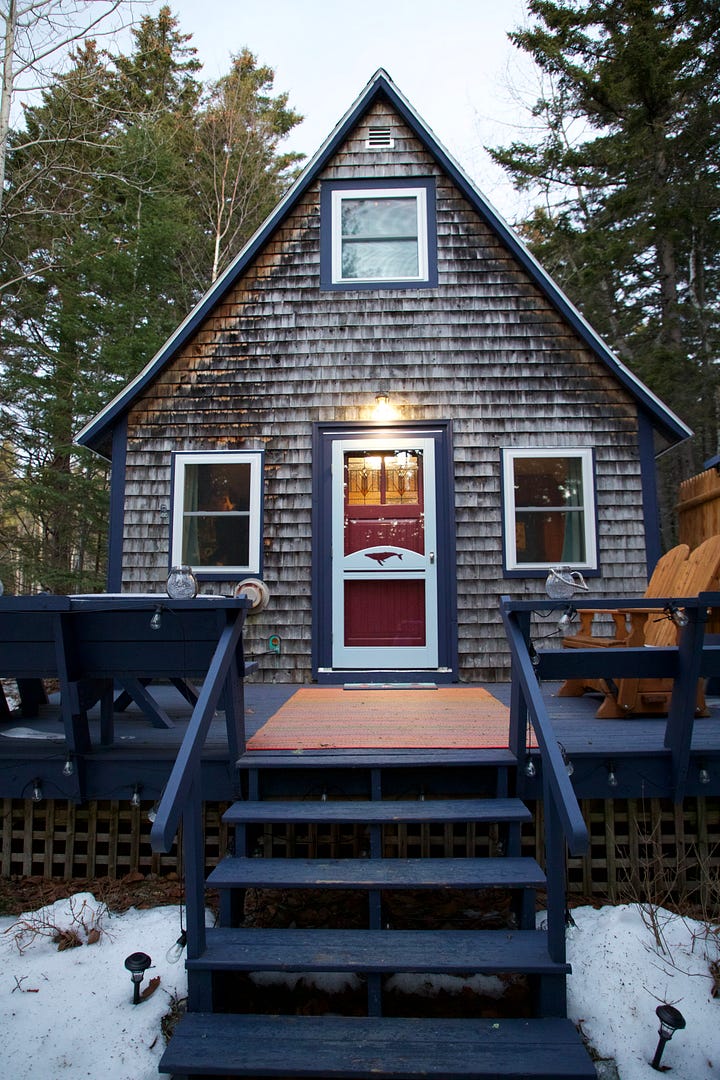 An adorable a-frame in Southwest Harbor that is perfect for a couple or family of three. We took a winter getaway here & it was a wonderfully cozy spot to wind down after a day of hiking & exploring all that Mount Desert Island has to offer. To redeem:
The 20% off can be redeemed for any time of the year! Check out their availability calendar here.

After deciding on your dates, inquire to book here. In the comment section, mention promo-code "gadaboutmaine" to redeem.
Free Subscribers: below are 5 additional curated & timely adventures. Consider becoming a paid subscriber (the price of one latte a month)!
This post is for paid subscribers