Go Chase Waterfalls
with zero effort. plus pottery happy hours, starfish and more.
Name change alert! We're keeping things simple around here & aligning this newsletter with our social channels. So long Maine Musings, it's Gadabout Maine through & through now :)
---
April in Maine: woof, am I right? Talk about a mixed bag of we're so close! and please tell me those aren't flurries!
The long winter is over, so it's time - with hesitancy - to put away the heavy coats. It's not consistently warm out yet though - so despite a sun-kissed day tricking you into shedding some layers, that crisp wind will knock you down a peg. It's preseason month, the inbetweener: just before beloved summer spots hang their open signs and pops of color emerge. And despite the past gorgeous week we received in Maine - all the while holding our breath, playing it cool, pretending it's normal - April can be drab, unpredictable and muddy.
Like, really muddy. So muddy it's one of our seasons in Maine. You'll know we've hit peak Mud Season when the snow begins to melt, the ground becomes sponge-like and everything is undeniably brown.
But psssssst: I love Mud Season (and no, eye-rollers, it's not just because I am gag-worthy in love with the State of Maine.) I'm not blind to the drawbacks of this season, I've just learned a little secret…and as the title would suggest, the secret involves waterfalls.
But let me first take you back, years ago, to my first Maine waterfall experience visiting Moxie Falls, one of New England's highest waterfalls with a single vertical drop of nearly 90 feet. It wasn't Mud Season, it was the middle of summer on a blistering July day with Maine preoccupied playing host to millions of Vacationland visitors - both the human ones and the mosquito/black fly variety. On the one mile walk to the falls, nestled deep in the woods in the West Forks, I tried to patiently hold my toddler's hand as she slowly stumbled down the path, stopping to pick up every rock she could fit into her tiny pocket. In my ear, a family of mosquitos buzzed, stoked to find their next meal just leisurely chilling in the woods. In between swatting every inch of my body, I mumbled a series of apologies to crowds of people trying to pass us, an endless stream of humans dodging my rockhounder. When we mercifully made it to the rushing falls, welts forming on my body, I didn't even stop to soak it in: I picked up my daughter, leaving my husband in our dust to fend for himself and ran - without stopping - back to the car. Like, I held my little human in my arms, sprinted as fast as I could to avoid anymore bites and played dodgeball the entire 1 mile back.
I should have worn better repellant, I should have anticipated how popular the falls would be on a beautiful day, I should have known mosquitos would be having a parade at dusk in a heavily wooded area.
But here's the thing: do you know when waterfalls are at their most glorious, full, rushing selves? Right now! When the snow melts and we see an increase in rain. And do you know who visits Maine in April? No-one! And those black flys and mosquitos? They aren't here yet!
And this, folks, is why I love Mud Season.
So, let's chase some waterfalls. There are so many epic waterfalls in Maine - like the 8 mile trek to witness the magnificent waterfalls at Gulf Hagas (aka the "Grand Canyon of Maine") - but for today, I am going to focus on just a handful that are easy to access without a super long hike attached. And for roadtrip purposes, in case you feel inspired to visit a handful in one go, I'm honing in on the counties of Oxford/Cumberland/York. I have personally visited these and can assure you that even if you have your own mini geologist slowing down the stroll, you'll still be able to reap high rewards for very minimal effort.
And sometimes that's just what we need when it's April in Maine.
Easy Access Waterfalls in Maine
Screw Auger Falls (North Oxford, Maine)
A 23 foot tall waterfall along a rugged stretch of the Bear River in Grafton Notch State Park. There is a parking lot directly next to the falls - and it took me less than a minute to reach these views & snap the below pics.
Step Falls Preserve (Newry, Maine)
Four minutes down the road from Screw Auger, and after a teeny 3/4 of a mile hike, you'll find arguably one of my favorite places in all of Maine. This spot breaks the mold of my preaching just a tad as I visit this spot year round. I visit in April for the serenity/water volume, but I forgo caring about how many people (or bugs) are there in the summer - it's my absolute favorite place to swim. A wide mountain stream cascades its way down several hundred feet of sunny granite slabs forming man-made slides & swimmable pools.
Cascade Falls (Saco, Maine)
Hidden away near busy Old Orchard Beach, you'll find this little gem. After parking in the lot, hang a right, walk down the hill and immediately access the gushing falls.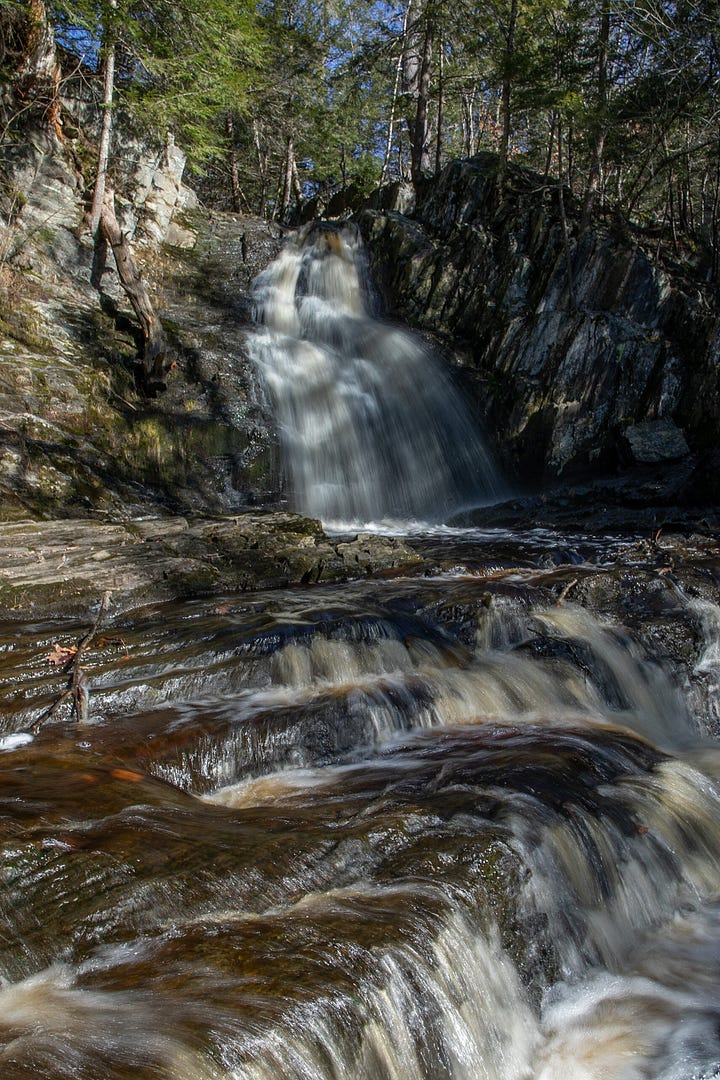 Jagolinzer Preserve (Limington, Maine)
I almost skipped this one on my waterfall cruise last week. I'm so glad I didn't. This well marked 0.5 wooded loop trail features a dam, a roaring brook and a series of small, cascading waterfalls. This is a perfect trail for kiddo explorers.
Jewell Falls (Portland, Maine)
A waterfall in Portland? Yup! It's a wee one, but it makes for a fun, quick trip. Tucked within the Fore River Sanctuary, you can pursue any of the 5 mile+ system of trails to reach the waterfall, but if you want the short & sweet route (and that's our goal today!) - park at the Rowe Street entrance and you'll hit the waterfalls in under a 1/2 mile.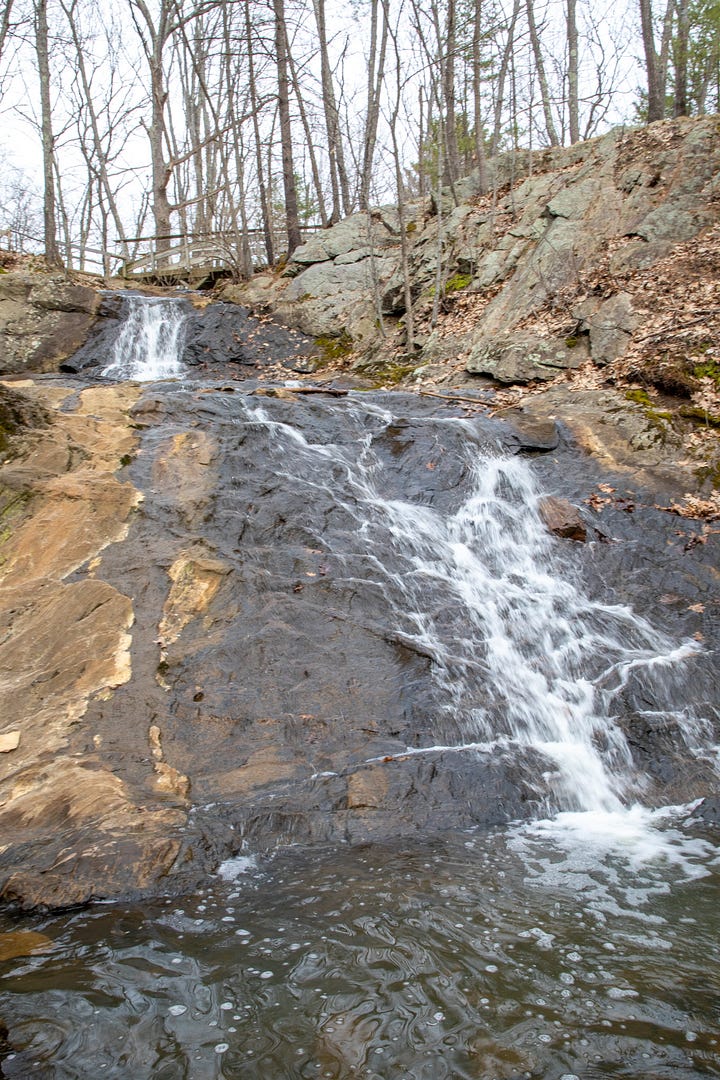 Listening to TLC on your waterfall cruise and falling down a 90's rabbit hole ending with you scream-singing Everybody (Backstreet's Back) is entirely, of course, up to you. But I'd recommend it.
---
More adventures, a giveaway & exclusive promos below! Become a paid subscriber today & never miss out. Or be the best friend ever & gift someone a subscription!
---
This post is for paid subscribers