My Postcard Was Pulled
and I found my way to The Lost Kitchen. plus spoon carving, seals & more.
I was busy assembling a very sad, very boring salad for lunch when I heard my phone ring in the living room. The onslaught of telemarketer calls have been so bad lately that I assumed it likely to be one and promptly ignored it. After consuming my lame salad, I answered some emails, walked the dog and folded a load of laundry. I wrote for awhile, ate some chips to cancel out my healthy lunch and booked an appointment I'd been putting off. Hours after my phone lit up while chopping romaine, I decided to check who called. A 207 number flashed on the screen - a missed called from Freedom, Maine.
Holy crap holy crap holy crap. I listened to a voicemail politely asking for a call back. No answer - so I left a composed (read: shrieking, frenzied) voicemail. And then…I waited. And waited. Did I miss my chance? Is that how this works? If you don't answer while assembling your pathetic lunch do they move on to the next hopeful?
I've sent postcards to The Lost Kitchen for years (and years) dreaming of securing a reservation. Each time, I try to refine my postcard game even though they insist the drawings are at random. I've purchased elaborate, detailed ones to send, I've created my own minimalist designs, I've spent hours painting and decorating them. This year, I stamped a simple "TLK" on the front in gold and attempted my best Georges Seurat knock-off with multicolored dots filling the rest of the blank postcard. My 7 year old barely smiled at it - it was, admittedly, not my best.
But this year I secured the golden ticket! Or had I? I paced around a toy store, phone glued to my right hand, attempting to buy a present for a party that afternoon. As I stood staring blankly at toy trucks, willing my phone to buzz, the call from Freedom mercifully arrived. "HELLO!!!" I squawked into the phone, my voice a few octaves too high, attempting to be heard over children throwing tantrums around me. A very patient, friendly voice on the other end confirmed that my postcard was chosen, dolled out a limited few dates that remained open on their calendar (I was one of the last postcards pulled with most reservations already gobbled up) - and my table, at long last, was secured at the illustrious Lost Kitchen.
With a deposit down on a table of 4, I called a friend in NY - a forever pal that holds an equal reverence for The Lost Kitchen's proprietor/chef Erin French - and after some delicate screams from both ends of the phone, our double date dinner plan was hatched. They would drive 6+ hours to join us for dinner in Freedom.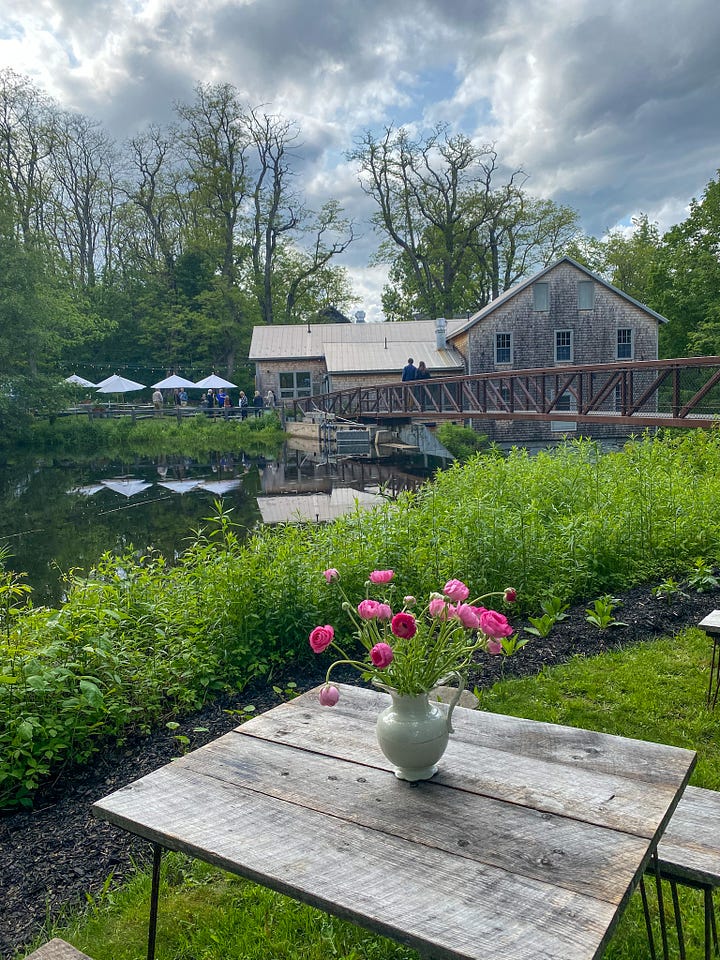 I was bubbling over with anticipation the entire drive to The Lost Kitchen. I get this way in airports too - did I book everything correctly? What if I missed a step and my name isn't on the dinner list and my poor friends spent half a day driving for nothing? But the same kind voice that I received a call from weeks prior greeted us at the entrance, welcoming us as if we were old friends, guiding us over the bridge to the mill's entrance.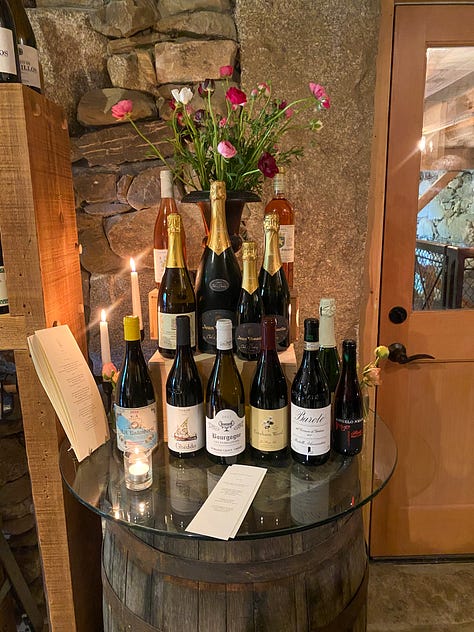 After enjoying a welcome drink on the lawn and some perusing in the sweetly curated store, we were led down to the wine cellar. Rosés from France, White Blends from South Africa, Pinot Noirs from Oregon and many, many more surrounded us. One of Erin's team members walked us through suggested pairings with the dinner menu and with crisp, cold bubbles and deep reds tucked into a wicker basket, we were led by Erin's Mom to dinner.
Inside the doors, busy with prep, was Erin. Collected, calm, natural in her kitchen. In between a delicate placement of an herb, she'd grin, make eye contact and with a nod welcome each guest. The fear I just recently felt while parking the car (what if I got the date wrong?) suddenly transformed and took new shape watching Erin. I felt a wave of nerves for her: everyone walking in here is expecting the best meal of their life. That's a type of pressure that takes a pretty special human to not only digest, but fully deliver upon.
For the first two hours, before the dinner even officially began, we were treated to rounds of hor d'oeuvres - airy, exquisite small plates showcasing Maine's bounty. Butter with radishes, oysters, meats and olives. A scallop sliced so delicately, it melted in my mouth. Erin's signature simple flowers, most sprinkled with dew, dotting the plates. It's never been about the fuss with Erin's cooking - it's the ingredients, it's the story. There isn't foam and smoke, illusions or distractions, it's quality, cared for, pure ingredients presented in an approachable way, adorned with personality, elegance. Erin delivered most plates herself and instead of solely describing her exquisite dishes, she focused on highlighting the Maine farms and fishermen responsible for the ingredients.
Dinner began with a roasted carrot and coriander soup, elevated with chive blossoms and honey. A bib and little gem salad with a trio of cheeses (you know who doesn't make a lame salad? Erin French.) Spring run halibut with creamy polenta, asparagus, turnip, capers. So many desserts I lost track: candied ginger shortcake with roasted rhubarb compote, tiny sweet cream homemade ice cream cones, chocolates.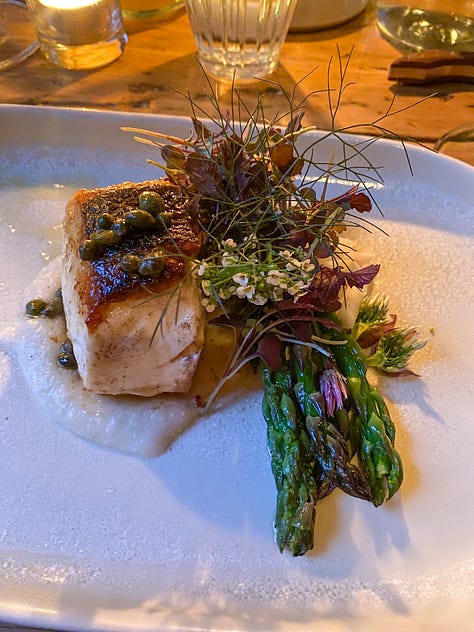 It was only after Erin clinked her wine glass and made a speech that I fully took stock of the room, folks grinning ear to ear, myself obviously included. Erin proclaimed that the room tonight happened to be filled primarily with Mainers - and along with the few tables from elsewhere, we erupted in cheers at this news, raising glasses.
I've been fortunate to enjoy great meals all across Maine, farm to table, fresh, gorgeous, rich with a story food. And while The Lost Kitchen is indeed in a league of it's own, the food is just a piece of the experience. It's a 5+ hour dinner - we arrived at 4:30PM and left just before 10PM - so this restaurant in Freedom is also about time.
Time spent, time together. You know how long you'll be dining going into the evening so there's contemplation around that amount of time - prompting you to choose wisely, very wisely. Who do I want to spend 5 hours eating, drinking, conversing and enjoying with? Who will love this as much as I do? It's truly a once in a lifetime opportunity - so every table at The Lost Kitchen is filled with once in a lifetime friends, family, the people you choose when your postcard is pulled from a pile of thousands and thousands of others. Love is radiating, wafting, reaching every corner of the room. Erin's the magician in the center of it all, but some of the magic is indeed supplied by the patrons, the families or chosen families, filling the seats. As my friend described at the end of the meal: it's like pixie dust was sprinkled over the entire evening.
And perhaps that's why, even if nerves occasionally do drape over Erin watching expectant diners fill seats they've waited years for, she's able to mask it. She knows we've chosen wisely, we've walked in with love, there's a little bit of sprinkled pixie dust in every crevice. This entire room doesn't want to be anywhere else, with anyone else, and that amount of love has got to be a pretty intoxicating elixir. A profound thank you to receive, the push needed to keep creating the life you've always imagined, in the least likely of places. A deeply liberating, cultivated immunity to the ever present pressure. A found freedom, one might say.
---
While all initial drawings for the postcards have been completed (still a chance if there's a cancellation!) - here are other ways to visit TLK:
Freedom Farmer's Market at The Lost Kitchen
Tuesdays from 12-4PM (June 27th - August 29th)
Brand new this year! Shop fresh veggies, seasonal fruit, flowers, baked goods and lots more from some of The Lost Kitchen's favorite Maine farmers and purveyors.
Petite Shop at The Lost Kitchen
Tuesday, Wednesday, Thursdays from 12-4PM (open the whole summer!)
Find curated home goods, antiques, wine and lots more. When I visited in December for their Holiday Market, Erin was behind the register checking people out!
on another note
I've been listening to requests (thanks for the LOVE!) & I'm toying with the idea of putting out a 3rd newsletter each month (the 1st & 15th as usual, but a bonus one snuck in as well!) Would that be of interest? PS: this poll is completely anonymous! thank you in advance - your honest input is greatly appreciated before I commit to more!
As always, more adventures below, folks! And if you love this newsletter, considering being a part of it's success by upgrading your subscription :)
This post is for paid subscribers