Seven Lakes Swimming
courtesy of a mother-daughter team. plus tomato dinners, lavender and more.
Deeply engrossed in the separate fiction in front of their noses, a couple occupying a corner of the deck maintained an impressive game of footsie under the table. Another couple, sprawled out on towels on the dock, playfully splashed each other while dipping their toes in the lake. Lounging in an adirondack chair on the lawn while soaking in a rare sunny day this summer, a young traveler scribbled (a poem? love note?) in his journal. My husband and I, meanwhile, were clenching a third cup of coffee after awakening to hot breath on our faces hours before, an early AM scream-whisper that forced my eyes open: "MOM, when can we go swimming?"
Seven Lakes Inn, owned by mother-daughter duo (Carolyn Walker and Jordan Shaw), sits directly along the shores of Long Pond in downtown Belgrade Lakes. With a private dock steps away from the Inn's entrance, guests are treated to endless swimming and boating possibilities. Surrounding the back of the Inn is an expansive deck dotted with tables overlooking the water, the perfect spot to enjoy the homemade, complimentary breakfast that is prepared by Jordan each morning. Items like rhubarb and citrus olive oil tea cake with lavender whipped cream or potato, leek, goat cheese, dill galettes fill the plates.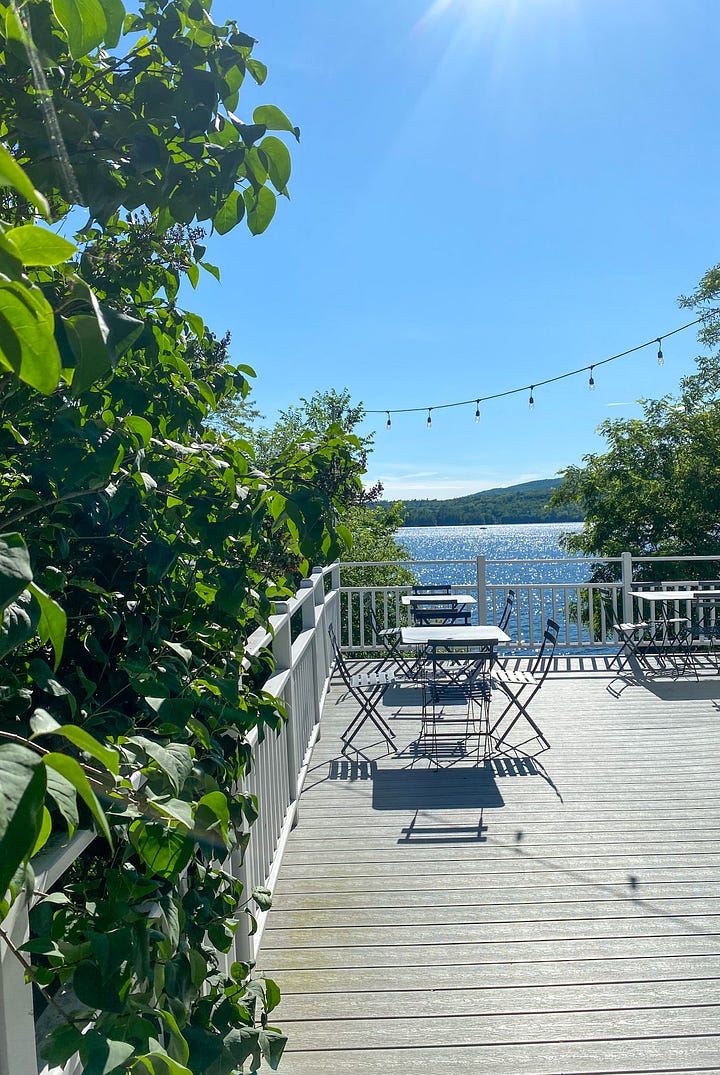 Once you manage to pull yourself away from the views and step inside the restored 1840s Italianate building - if like me - you'll wind your way up the original grand staircase, soak in the crisp, impossibly stylish decor and proclaim about forty times to your husband that you want to "live in" the lush European linen sheets on the bed. The curated antiques throughout the Inn help accentuate the history of the space - and while there are thoughtful, minimal updates along with touches of modern comforts, the original details are the showstoppers throughout. So despite the waters calling you from outside, you'll be strongly tempted to forgo outdoor adventures in Belgrade Lakes in order to remain tucked inside the dreamy, history soaked boutique bed and breakfast - alternating between good reads, solid naps, and afternoon glasses of rosé.
(You won't, however, pursue any of these little luxuries, because your assistance will be required in blowing up a gigantic swimming tube at 7AM and near passing out. Once you catch your breath, you'll play Marco Polo with your seven-year-old until your fingers and toes wrinkle.)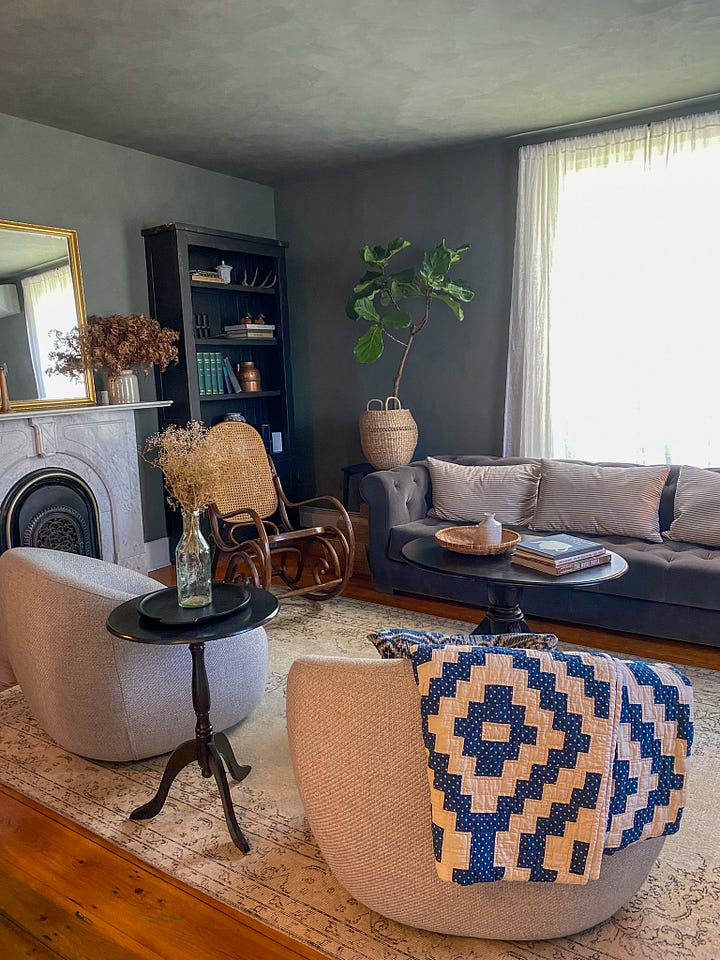 The Inn boasts only four rooms, so you are guaranteed a quiet, rejuvenating stay - assuming you've picked your travel companions wisely. We stayed in Room #4 - a large corner room with three beds, dubbed the Family Suite, providing views of Long Pond, Great Pond and the village of Belgrade Lakes. As the room suggests, kids are, of course, allowed - and you'll feel nothing but absolutely welcomed your entire stay.
But…you could also choose to not bring them! You could sift through the hundreds of design magazines in the sophisticated sitting room for an undocumented amount of time! You could find yourself wistfully lost in thought instead of hiding in the cupola on the third floor that offers 360 views of the lakes and village! Sleep in and drink complimentary tea in any of the landing nooks overlooking the water! Lean into the undeniable romance of the place or spend solo time in the most conducive place for self reflection and restoration on the planet! Play cards at sunset on the deck! Write! Nap! Read! Do absolutely nothing!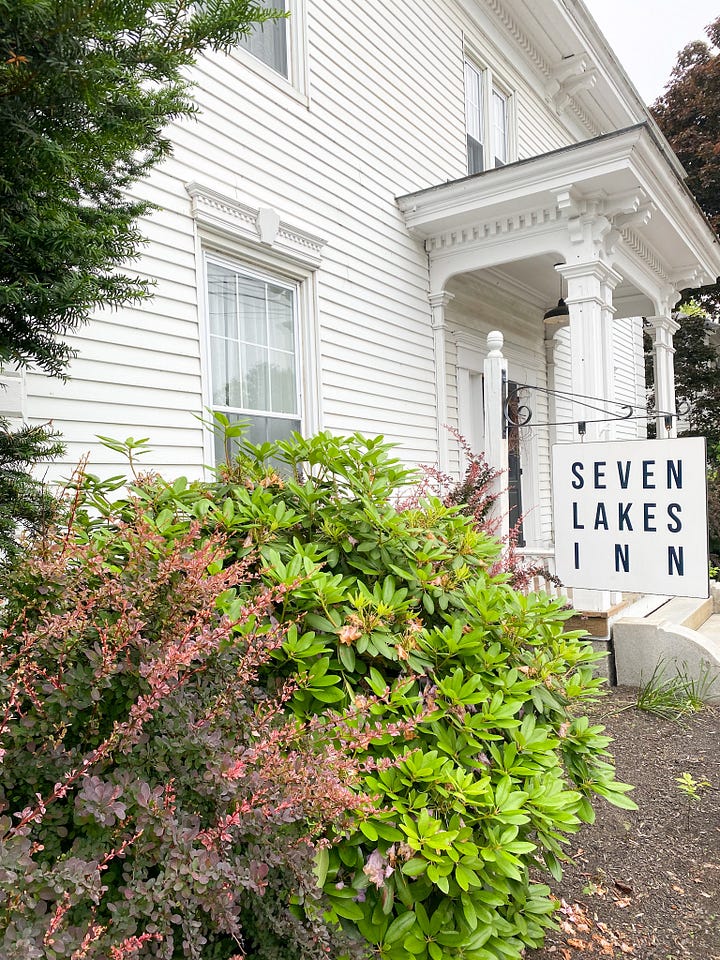 Our family, instead, completed 4,568 activities each day during our short weekend stay. We perused Day's Store, just steps away from the Inn, grabbing snacks and neon tourist t-shirts. We walked to Hello Good Pie for afternoon treats, popped into Oliver & Friends Bookshop to search for new reads. Hiked French Mountain, an easy, family friendly loop trail just minutes from the Inn. Enjoyed pizza and beer at The Farmhouse Beer Garden, walked across the street for lakeside dining at The Village Inn and Tavern. Explored the neighboring town of Hallowell, winding up and down Main Street, stopping for lunch at The Quarry Tap Room.
And we swam, of course. The Belgrade Lakes Region is, after all, home to seven Maine lakes: Great Pond, Long Pond, North Pond, East Pond, McGrath Pond, Salmon Lake and Messalonskee Lake.
After successfully consuming every tiny morsel of the delicious homemade granola during our last breakfast on the deck, it was time to load up the car to head home. We said our goodbyes and thank yous to Jordan, who graciously offered a quick peak into the barn on the property, divulging her dreams of what they hope to eventually use the gorgeous space for. She shared stories of her family's history with Belgrade Lakes and how her dream of owning an Inn with her Mom came to fruition.
After we stuffed the gigantic tube in the trunk and got seat belts on, my daughter tapped me on the shoulder from the backseat: "Maybe you and I can open an Inn together one day, Momma." Succinctly and sweetly, she secured her invites to our romantic getaways for forever and ever, knowing we wouldn't really want it any other way.
Congrats to the winner of the Dominique Ostuni

pinch pot giveaway

, a subscriber from Brunswick, Maine!
Huge thanks to everyone that has signed up to be a paid supporter of Gadabout Maine - I'm looking forward to many more future giveaways to continue to say thanks!
---
As always, more adventures below + a very sweet treat-yourself summer promo!
---
This post is for paid subscribers