Sleepaway Camp for Adults
a restored 1930's boys camp. plus grape stomping, backyard fine dining and more.
We've got a title + cover, folks!!
My upcoming book - published by Islandport Press - will be released in October 2023. Part memoir, part travel guide - all parts Maine. I'll be sharing more as we get closer to pre-orders, but for now, hooray!
But let's get to the newsletter now, shall we…
---
When it comes to camping, it's been a bit of trial and error for my family. We've experienced the full range: the typical tent/sleeping bag situation to manicured (not sure you can really call it camping) glamping. I think, after years of trying to convince ourselves otherwise, we're falling somewhere in the middle of the two.
I *want* to be the family that curls up in sleeping bags under a blanket of stars, reeking of bonfire smoke, unshowered, unconcerned. I *want* to be able to sleep on dirt and acorns, oblivious to the mosquitos that snuck their way into our tent.
We are, however, *not* that family. We're horrible sleepers to begin with, my daughter and I develop intense head-to-toe rashes from bug bites, and if I am brutally honest: I simply don't enjoy it. And since I attempt to embrace the things I genuinely enjoy over the things I wish I enjoyed, traditional camping is usually a miss for me.
That said, I crave the simplicity, the stripped down, bare essentials aspect of it all. Electricity? Don't need it. A kitchen, attached bathroom, screens? Absolutely don't need it. Give me walls, some semblance of a door, a cot situation - and I'm good.
I was *great* at Otyokwa in Bremen, Maine.
Opening in 1935, at the height of the Great Depression, Otyokwa was once a boy's sleepaway camp. The campers would swim, hike, play and even trail blaze - many of the trail networks still exist on the property. The camp only lasted for five years, but in that short amount of time, they transformed the little slice of paradise with a spirit and joy that is permanently imprinted throughout the property.
Today, Otyokwa boasts the original structures: five sleeping Cabins, one Kitchen Cabin, a Bathhouse and Mess Hall (now Rec Hall - featuring ping-pong, games, vinyl record players and pictures of the original camp to peruse.) The "Camp" is forty-acres in total and includes 2100 feet of lakefront: the spectacular, perfectly swimmable, Pemaquid Pond.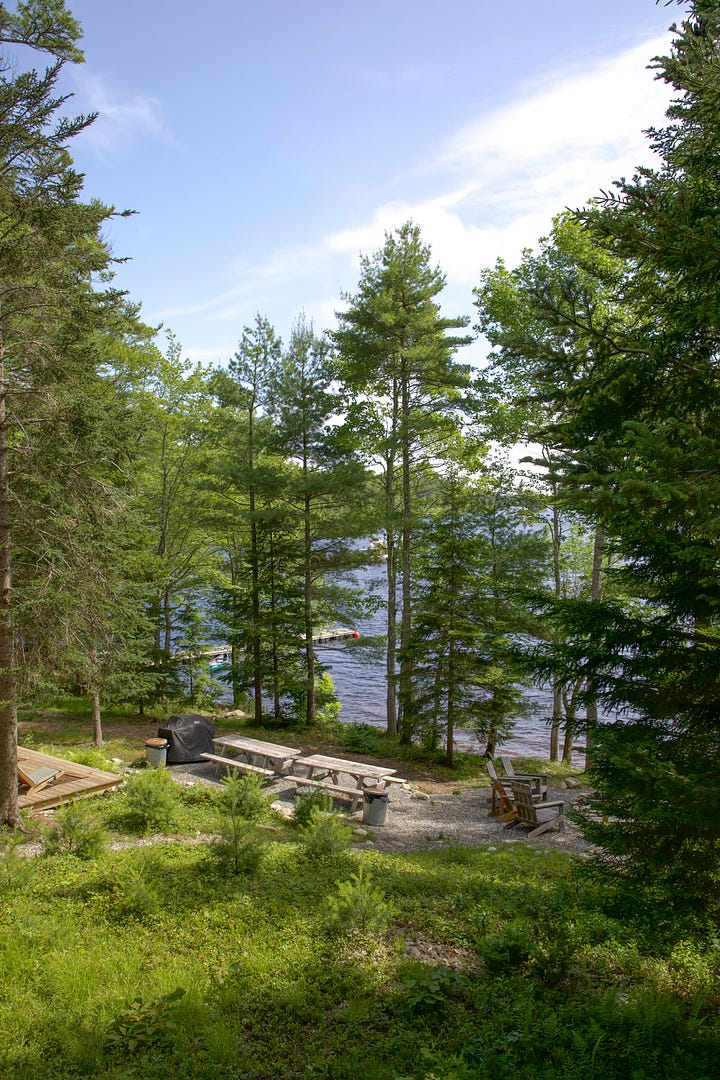 The Kitchen Cabin hosts a fridge and cooking essentials, available to all guests to share. The Bathhouse, also shared with all cabins, has simple (and very clean) showers and toilets.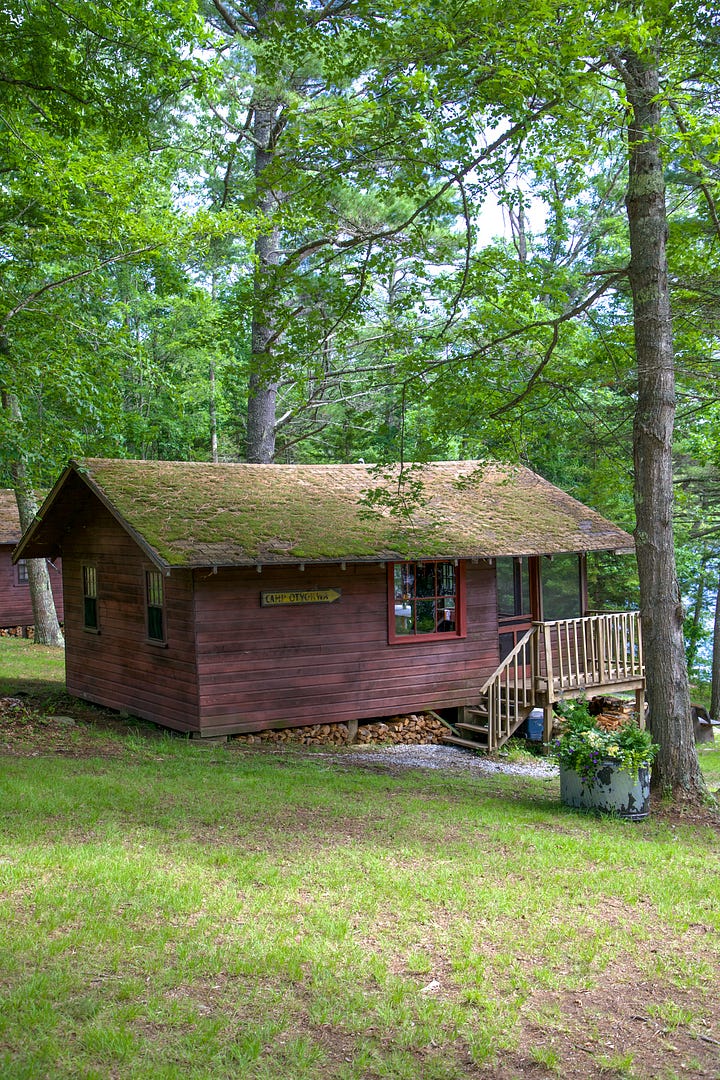 The sleeping cabins are lovingly, but very minimally, restored. They have electricity and host simple decor: lanterns, rustic first aid kits, binoculars. Our cabin (cabin #3) had two separate bedrooms plus a cot - all beds made up with extremely soft linens. No rickety bunkbeds like the ones undeniably present in 1935 - but thanks to careful, conscious, simple updates, it was easy to envision ghost stories, secrets and smuggled candy once shared within these walls.
In addition to the cabins, you'll also find two floating houseboats on the property. The boats, "Nomad" and "Roam" - are available as an add-on or stand-alone (floating) accommodation while at Otyokwa.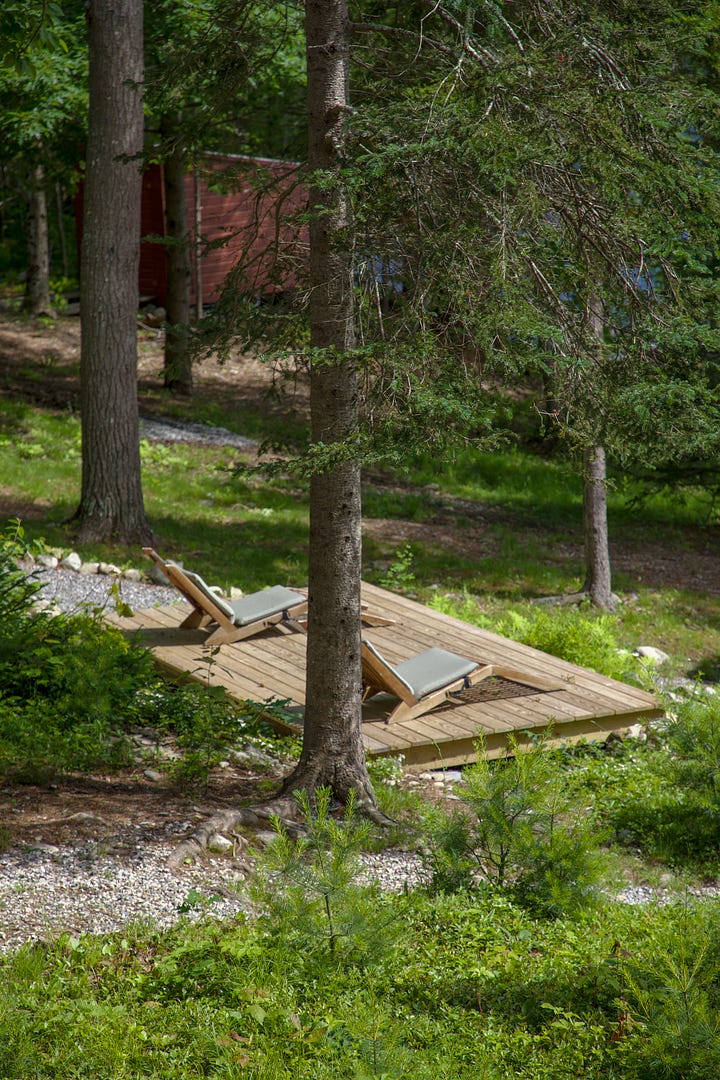 The entire property is yours while there. We fished off the dock - my daughter squealing with every successful catch. We swam - endlessly, really. We made a bonfire - eating more s'mores than I care to admit.
Otyokwa hosts weddings, small gatherings, retreats, etc. They also host families/friends looking to reserve a handful of cabins for a Maine getaway - you can reserve half to full camp buy-outs to spread out the full extended fam across the property. Most often, these are for week-long stays, but sometimes you can snag shorter ones, for 3+ nights.
…and a little secret for those local or looking to pop in quickly: they occasionally have an opening for 1-2 nights in one of the cabins. And if you are a successful sleuth like me, a sly detective looking for a single night away, you might be lucky enough to happen upon one while stalking their booking page.
On the scale of traditional camping to five-star hotel, I don't know where this falls on the spectrum. But after a quick rinse in the shared bathhouse, tucking into my comfy bed, watching the bugs buzz outside the screen door: I felt like Goldilocks after successfully deciding on the perfect porridge temp, chair size and bed. As the loons echoed to each other outside, I thought: ah, just right.
This post is for paid subscribers