Supper Club with a Stranger
plus oyster cruises, sculpture preserves and more.

This will come as a surprise, my dear readers, to absolutely no one: I am a gigantic sucker for farm suppers in old Maine barns with rafters filled to the brim with soft stringy lights. This is evidenced in my recent newsletters here and here (which is honestly saying something in itself - I've only released 4 newsletters to date.)
What is it about eating dinner in these ramshackles that brings me so much joy? I'd be lying if I said it was always the promoted menu that convinces me to push the reservation button. While I've been known to crumble into one gigantic pool of sycophancy when in the presence of some of my favorite Maine chefs and restaurateurs - them cooking the meal is not often a driving factor. I could crumble into a heap of admiration and eat their food elsewhere.
It's certainly not about comfort. No matter which way you shake it, there is usually a chilly draft gusting in from some undeterminable section of the barn or broken promises of soft ocean or mountaintop breezes (read: no AC.) I prefer (adore) minimalist set-ups as you'll find at most farm to table barn suppers, but the decor certainly isn't taken into account in my incessant deliberation on whether I really need to pony up for another barn dinner.
But like HGTV re-runs belong in doctor's waiting rooms, I belong in old barns with a fork and knife.
Suffice it to say, if you invite me to dinner inside a barn I'll say yes and will arrive early and eager. And who better to receive an invite from than someone you've already shared a barn dinner with? Someone that likely holds the same reverent for stuffing their face in random Maine barns?
I met Holly this past summer at Turner Farm's Barn Supper. My sister and I had a date night, leaving kiddos at home, feeling carefree and happy (duh, me + barn) when we quickly struck up conversation with Holly and her friend dining alongside us. Holly is one of those people that you instantly want to be around, someone so funny your insides ache from laughing, the person that everyone yearns to be seated next to during communal dining experiences. She has no trouble consistently making new friends as an adult, something most (myself included) can find daunting and difficult, because it's so easy and tempting to stay on repeat within your own social bubble. But when Holly - someone truly impossible to forget - extended an invite to join her for Flanagan Farm's Supper Club, I said yes, without even knowing her last name.
Flanagan Farm in Buxton, just 25 minutes southwest of Portland, hosts events year round on their 66 acre property. With their restored 19th-century barn (swoon) and attached farmhouse complete with an unadulterated pasture, they accommodate events big (weddings with up to 250 guests) and smallish (think intimate celebrations or formal dinners for 50 guests.) Throughout this winter, they have offered a series of events open to the public, like their Sip 'N Skate Nights (complete with a custom ice skating rink for guests to enjoy, along with warm beverages available rink-side and bites from Big Tree Catering - the folks behind Eventide Oyster Co and The Honey Paw - to enjoy inside the barn.) And, of course, their Supper Club series which I graciously accepted an invite to.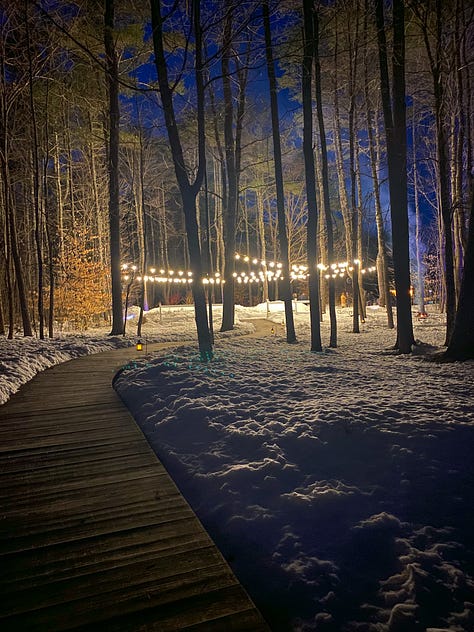 After a quick reunion in the parking lot (and an exchanging of last names) we winded our way up a path lit by - you guessed it, soft stringy lights - towards fire pits blazing alongside the mobile bar churning out cocktails. Greeting each guest in the forest grove were owners, Mike and Essie, beaming with pride watching their space fill with rosy cheeked diners. The night would kick off here with guests welcome to skate and enjoy the rink (reason #1587 that I love Maine and it's people - embrace all seasons, folks) or simply mingle with drinks in hand, warm up by the fire, and enjoy the hors d'oeuvres (chickpea panisse with harissa, octopus skewers with olives and chili flake, pork sausage with giardiniera and mostarda) pouring out from the kitchen.
A toast was made by Mike, Essie and Chef Matt Ginn (Evo Kitchen & Bar, Twelve, Chebeague Island Inn) and after a celebratory clink, the group made their way to the barn. The barn was warm, dripping in elegance and each placecard was meticously placed alongside the evening's menu delicately folded into each napkin. Chandeliers hung from the rafters, candles flickered across the long dining table.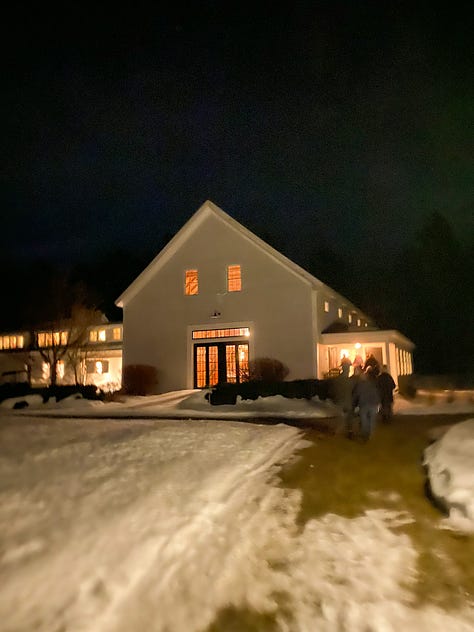 Empowered by the superhuman-adult-friend-maker next to me, we knew everyone's names and stories before the winter chickory salad with taleggio, pistachio, basil and citrus hit the table. With wine pouring, we gave a cheers to the young couple seated next to us, meticulously looking at every corner of the barn, excitedly dreaming and scheming about their wedding that will take place there this August. We exchanged stories with the food writer across from us as the flatbread and pasta - with prosciutto, balsamic, cavatelli and braised rabbit - steamed from the table. Between bites of the marinated monkfish, uproariously laughed with the photographer and actor couple to our left. Over and over, people were endlessly delighted when they learned that Holly and I had known eachother for a combined total of 5 hours by the time dessert, a delicate semolina cake, occupied our forks.
What's probably been obvious to you from the start of this essay, something certainly not revelatory, only hit home for me when I hugged Holly goodbye. My irrepressible attraction to communal barn suppers lies within the initial uncomfy period of making small talk with strangers while sharing food, making sure everyone has had enough of a dish. It's in the step that follows, when you find common ground or share different experiences, that first blip of connection. It's in the potential. With the communal table and feast acting as a stage, who will be my fellow audience members to my stage left, right and downstage this dinner? These are your people for the next 2-3 hours, enclosed within this darling barn, and how you spend your time is up to you. And impeccable food, like that at Flanagan Farm, elevates these experiences (because boy would the table conversation be a lot different if the food was terrible) but if you come only to savor each bite, you're missing the point.
It's, of course, the tender sense of community that continues to sweep me off my feet over and over again. It's the possibility of being seated next to a Holly, next to a new friend.
—> The last Supper Club dinner this winter will be this Friday, March 17th and only a couple tickets remain. Join their newsletter list to be notified of all future events!
---
Want 15% off Supper Club Tickets for this Friday?
We have an exclusive discount for Maine Musings paid subscribers below!
PSSSSST: Subscriptions are just $5/month or $50/year. That's less than one latte & much less than one fancy cocktail. Paid subscribers get:
help filling your fun calendar twice a month with: adventures, experiences, hikes, sails, quirky events, farm to table dinners, and so much more all across Maine. I'll also remind you of upcoming not-to-miss events that quickly sell-out.

access to discounts that far exceed the subscription cost

the knowledge that they are supporting a Maine-based writer who so (so so so) appreciates it. If you have enjoyed my essays, your support would mean the world.
This post is for paid subscribers