Karl Thomsen
Jackman, Maine
This essay is pulled from my forthcoming book being published by

Islandport Press

, expected in early fall 2023. You can get on the pre-order list and learn more

here

.
On my eighth attempt at calling Karl, he finally picked up. Karl, whose title ranges from Lakeside Guardian to Dock Master for Attean Lake Lodge, has never owned his own cell phone. The resort provides him with a phone for the summer season so they can reach him from across the lake, but he is by no means tied to it. In fact, he avoids it altogether after 12PM as that is usually when the telemarketers try to reach him. Karl also has no email address, no social media and has successfully avoided computers entirely for all of his 62 years. Getting in touch with Karl is difficult -  just the way he likes it.
On average, Americans check their phones 344 times per day. Once every 4 minutes. It's an addiction that we collectively know is wrong and shameful, but we do it anyway. Imagine not only eliminating, but never introducing, our dopamine dealer and depletor. 
"Life is so much easier my way, I find," Karl began, "I often hear guests say they want to throw their phones in the lake." In Karl's world, there is no Facebook. There are no group texts, no likes or emojis, he never received a classic chain email from the late 90's, never suffered through a Tiktok dance video. "I like my own company," Karl tells me. "I read a lot. I entertain myself. I laugh at myself a lot, actually." And if you've ever met Karl, you'd have to agree - he is more entertaining, has stories significantly more meaningful, than any movie or television series. 
While employed with the resort during the summer, you'll find Karl in a small cabin without electricity at the landing of Attean Pond, greeting guests after they park. As soon as Karl hears your tires pull into the dirt lot, he'll emerge to help load your belongings onto the boat that will then escort you to the island. While waiting for the boat to dock, Karl will amuse you with stories about the resident dog that roams the resort and tips on sleeping the first night if you aren't accustomed to total, utter, beautiful silence. And once on your way, with a wave goodbye, Karl will disappear back into the solace of his own company.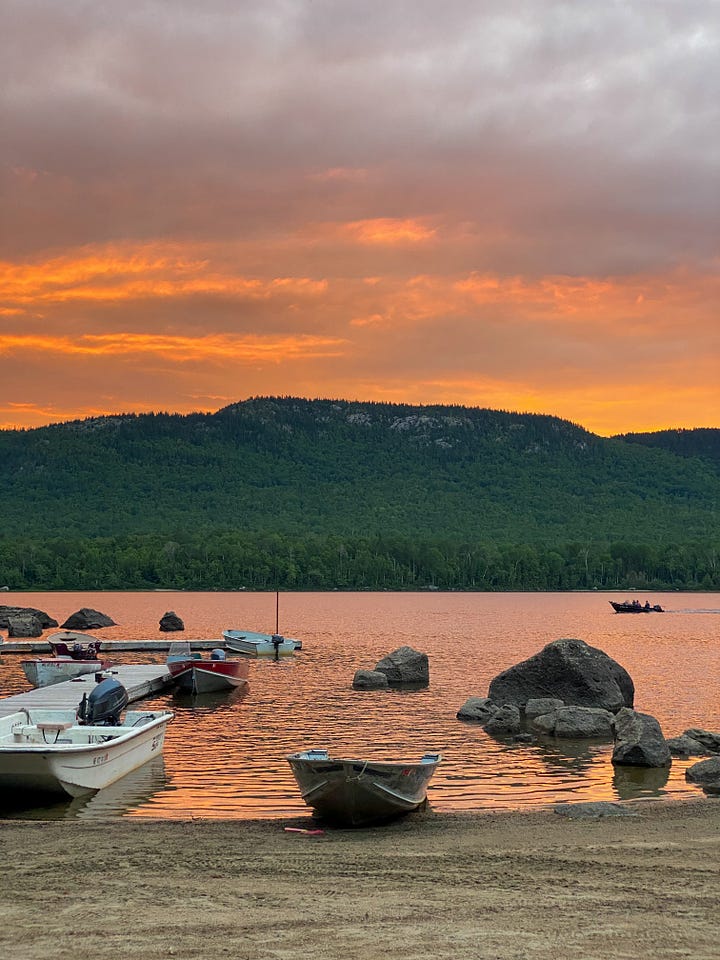 There's a comfort in knowing Karl will be there when we visit in the summer. A sort of old school, novelty-esque nostalgia of meeting at an agreed upon place at a set time. He guides moose hunts in the Fall, partakes in his own deer hunts in the winter, shovels some snow and keeps the water running for a local campground - and then the summer is back again, where he'll meet you at Attean, with new stories to share.
Attean Lake Lodge is one of my family's favorite summer getaways. An all-inclusive resort on a 24-acre island, you'll stay in one of their no-electricity cabins and use kerosene lamps at night. With cell phones put away for the duration of our visit, we compete in endless rounds of checkers, spend our afternoons boating, swimming, pursuing gorgeous hikes surrounding the island and telling ghost stories by the lake with red wine at night. Reservations are open for Summer 2023 - and as they always do, they will fill. When you go, please say hi to Karl for me.


Free Subscribers: below are five+ additional curated adventures. Want help filling your fun calendar twice a month? Consider a paid subscription!
*Interested* but want to check it out first? Sure thing! Access paid content with this 48 Hour Trial coupon (redeem by February 5th!):
This post is for paid subscribers